Advantages of Custom Made Barong Tagalog
Marifi R
The barong Tagalog (formal Barong or Baro) is a beautiful and stunning Filipiniana dress belonging to the Philippines. Though known primarily for its use by men, a barong Tagalog worn by women can also be seen.
A barong Tagalog is an elegant form of a national garment. It includes various kinds of intricately woven designs and patterns. Custom-made barong Tagalog is an exceptional piece of apparel.
Your barong will be a unique and personal piece of clothing tailored to your body shape. If you have never worn a Barong Tagalog before, why not try one that fits you just like a glove?
What we wear to the party is just as important as the party itself. With a custom-made Barong Tagalog, you're guaranteed to get your money's worth in style and quality.
Why Should You Wear a Custom-Made Barong Tagalog?
A custom-made barong Tagalog is tailored to your measurements, giving you a precise and comfortable fit. It is essential to feel comfortable and good in what you wear. Made-to-measure garments are tailor-made just for you and are produced exactly in accordance with your measurements.
Ensuring that your clothes fit perfectly is the secret to looking your best. By giving precise measurements, not only will the item of clothing feel comfortable, but you'll look good as well
Your barong is a very personal garment. It's also a way for you to show your individuality as well as pay tribute to your family and heritage.
Embroidery is a classic way of adding a splash of personality to your barong. It's what makes a barong different from other shirts. There are many ways of applying the embroidery design. For example, you can use a large area or have an entire panel covered in embroidery. Either way, it's up to you!
This includes choosing perfect fabrics from our wide selection of unique and premium fabrics to make sure you get the perfect color theme for your special event.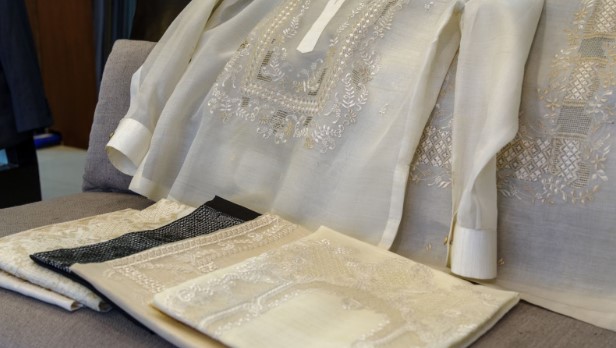 Local designers update the Filipiniana and Barong Tagalong while keeping their traditional designs and historical roots. Local designers create a modernized version of the traditional dress for modern occasions such as weddings and parties. The Filipiniana and Barong Tagalong are made with rich materials yet soft to the touch.
With personalized Barong, you have the ultimate style choice. Having one that is all your own doesn't just feel like you're wearing the most comfortable shirt, but it also speaks volumes about what kind of person you are. With personalized Barongs, you'll have endless styles that will match any event theme there is.
When it comes to wearing the barong Tagalog, comfort is key. If you can't breathe, or if your barong feels like it's suffocating you, then you just aren't going to enjoy the occasion as much as you should! From custom sizing to multiple colors and patterns, BarongsRUs has all of your needs covered when it comes to choosing the perfect barong for any special occasion